The custom of exchanging love notes goes back to the Roman Lupercalia festival with the names being drawn. But the British were the ones who popularized sending your feelings to someone via a printed card. The first Valentine card was created by Chrles, Duke of Orleans, imprisoned in the tower of London for several years following the Battle of Agincourt in 1415. he sent Valentine poems to his wife in France from his jail cell. Commercial Valentines didn't apepar until 1800 (In England) and although handmade cards had been around for years. In the 19th century a new kind of Valentine emerged called "penny dreadfuls" that were insulting and cruel rather than loving and flattering. They were mostly sent anonymously too.
In America, hand-made Valentines appeared around 1740 and were sealed with red wax and left secretly on a lover's doorstep (or sent in the mail).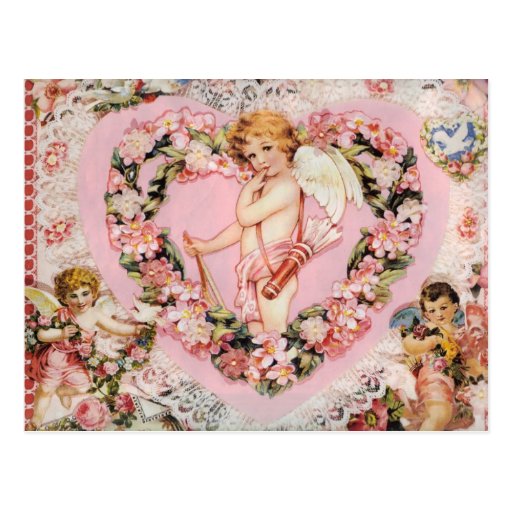 Commercial cards for the most part took over around 1880's. But people still (and will always) make homemade ones too. Some included trinkets, some locks of hair and in some cases there were checks that were drawn against "The Bank of Love" and valentines printed to look like money. One was so realistic to a 5 pound note it was quickly recalled!
When Valentine Cards arrived in America, they also became more creative. The first known to come to the US is a note written by John Winthrop in 1629 to his wife before leaving England for the New World. It ended with "My sweet wife, Thou must be my valentine for none hath challenged me." He later became governor of Massachusetts Bay Colony.
Valentines were not only done in delicate pen and ink, but also watercolor and the handwriting also became a thing of beauty for the card as well, as good penmanship was considered a form of art, as well as the quality of a person.
Marriage is a lot like the army, everyone complains, but you'd be surprise at the large number that re-enlist.
James Garner
To fall in love is awfully simple, but to fall out of love is simply awful.
Anonymous
Love is a fire. But whether it is going to warm your hearth or burn down your house, you can never tell.
Joan Crawford
Love is much nicer to be in than an automobile accident, a tight girdle, a higher tax bracket, or a holding pattern over Philadelphia.
Judith Viorst
If love is the answer, could you rephrase the questions?
Lily Tomlin
Love is sharing your popcorn.
Charles Schultz
Love doesn't drop on you unexpectedly; you have to give off signals, sort of like an amateur radio operator.
Helen Gurley Brown
When a couple of young people strongly devoted to each other commence to eat onions, it is safe to pronounce them engaged.
James Montgomery Bailey
There is nothing better for the spirit or the body than a love affair. It elevates the thoughts and flattens the stomach.
Barbara Hower
Gravitation can't be held responsible for people falling in love.
Albert Einstein
A guy knows he's in love when he loses interest in his car for a couple of days.
Tim Allen
My wife is really sentimental. One Valentine's Day I gave her a ring and to this day she has never forgotten those three little words that were engraved inside -- Made in Taiwan! Leopold Fetchner
If you love 'em in the morning with their eyes full of crust; if you love 'em at night with their hair full of rollers, chances are, you're in love.
Miles Davis
By all means marry. If you get a good wife, you'll be happy. If you get a bad one, you'll become a philosopher.
Socrates
Marriage is like twirling a baton, turning a handspring or eating with chopsticks; it looks easy until you try it.
Helen Rowland
Marriage is like pantyhose. It all depends on what you put into it. Phyllis Schlafly
Thank you to brownielocks for these facts & quotes.
To find an exciting variety of stories from sweet/sensual traditional romance to horror, multi-author anthologies and single-author collections, speculative fiction to fantasy, and talented award winning authors, please visit:
My latest release is: "Love Kills" ~ a twisted Valentine's Day tale of speculative fiction, not for the faint of heart ~
99 cents
Valentine's Day should be a time for cards, gifts, and attention from a special person. But for Rosalyn, February 14th brings fear and anxiety.
This would be her sixth year to spend the day in terror, fighting for her very life. Will Rosalyn survive to live another year, or will vengeance win and decide her fate?